What We Do? – Global Supply Chain Group
play
We specialise in profitable business transformations using Supply Chain Management 3.0 to create leverage and impetus for change.
This powerful methodology creates a Business-to-Business Network that allows you to transcend traditional strategic barriers to business transformation with panache and elegance.
What is the net impact of this methodology?
Take a look at the figure below: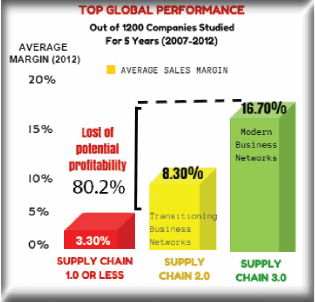 In a study of 1,200 top global companies' performance over the 5 year period (2007-2012), the average margin of the companies with Supply Chain 3.0 was nearly 5 times the average margin of the companies with Supply Chain 1.0 or less.
In other words, by not adopting these latest techniques, an average company is losing a margin potential of up to 80.2%.
Why is this allowed to happen?
In our humble estimate, these companies are too busy fighting urgent day-to-day fires and have no bandwidth available to focus on the important business transformation issues systematically.
Are you sure that your company is not losing margins to its competitors, perhaps because its business-to-business network model could now be out of date?
If you want to be sure, please be sure to arrange a confidential discussion with us.
This is what we do on a day-to-day basis – with companies that could be your suppliers, your customers, or even your competitors.
We ensure executives, CEOs and their companies get ahead and stay ahead in the competitive market, using our unique 5-STAR Business Network approach.

We help you transform your supply chain to the next level or to its highest potential, through the journey from SCM 1.0 to SCM 3.0.

We serve and protect CEOs and executives through risk minimization and results orientation built into our unique business transformation approach.
To know full details of our unique approach, outlined in the figure at the top, contact us.