FAQs (Frequently Asked Questions) On Flow Of Risk In Supply Chain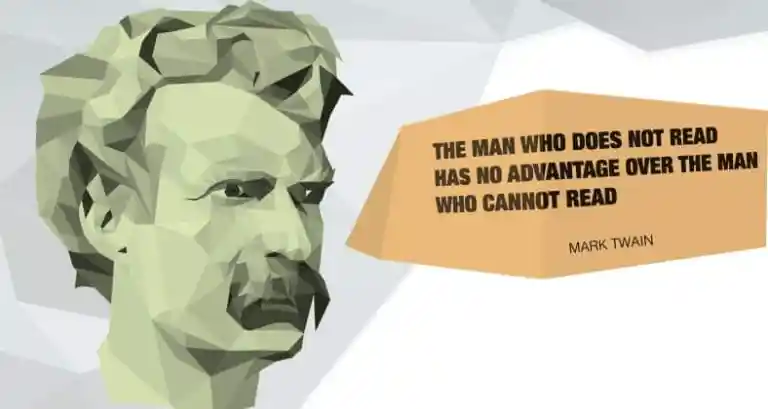 FAQs (Frequently Asked Questions) On Flow Of Risk In Supply Chain
Following are some of the frequently asked questions (FAQs) on Flow of Risk in Supply Chain that we have encountered in our speeches, workshops, seminars, and other forums.  Feel free to ask more questions if your particular question is not answered below.
Why We Are Qualified To Write This List Of FAQs On Flow Of Risk In Supply Chain?
Why We Are Qualified To Write This List Of FAQs On Flow Of Risk In Supply Chain?
VERY FEW PEOPLE KNOW THE FIVE FLOWS OF SUPPLY CHAINS LIKE WE DO – retail, beverages, food, milk, dairy, meat, livestock, explosives, chemicals, cotton, rice, graphite, solar power, natural gas, crude oil, fertilizers, electronics, packaging, glass manufacturing, machine parts, automobiles, industrial goods, mining, etc are just some of the industries where boards and executives have benefited from our proprietary knowledge of the supply chains. 
Click on our project methodology above to see how Supply Chain Flows are an integral step in each and every project that we have undertaken in the last three decades.
Since when no one had heard of supply chain, our co-founder Vivek Sood has been considered one of the most authoritative professionals in the field when it comes to the subject of Supply Chain Flows in Australia, Asia, North America, South America and Europe.
 He has written four seminal books about restructuring supply chains to gain massive advantage in business. He also regularly delivers keynote speeches at business schools and conferences such as University of Technology Sydney, Supply Chain Asia, Asian Bankers Forum, APEC Business Advisory Council.
He has been quoted in the authoritative business press and over 100 academic papers written by supply chain researchers around the world. Vivek and his team have examined thousands of supply chains during their projects over the last three decades and helped hundreds of executives build safe, cost effective and sustainable supply chains and careers. 
FAQs (Frequently Asked Questions) On Flow Of Risk In Supply Chain
Risk is 'the probability of an undesirable outcome' from an event or an action.
As events transpire over time, and/or actions are taken with specific intentions – the outcomes are unknown before the event or action. Risk is said to exist when either all the possible results are unknown, or some of the potential consequences are undesirable.
What Is A Supply Chain Risk?
Supply chain management is the art of coordinating action across various entities who bind themselves to each other to integrate and optimise their aggregate efforts. The supply chain's intention is clear – to optimise action to cut waste (8 wastes), save costs, increase velocity, and serve customers better.
Along with all, this action comes risk. Some risk is just inherent in the nature of the activity that a particular supply chain undertakes. As an example, one of our clients was the largest manufacturer of industrial explosives on earth at that time. Clearly, manufacture, storage, shipping, transportation of explosives entails enormous risks of explosions, at almost any time, anywhere there is a lapse in precautions.
Other risks are universal – e.g. risk of a counterparty not paying for goods once the goods are delivered to them.
The sum total of all the risks is a very long list of known risks. However, in addition to the known risks are the unknown risks, which are equally important.
What Is The Difference Between The Known Risks And The Unknown Risks?
Not all risks are quantifiable or even known. Donald Rumsfeld's statement about known knowns made the risk matrix famous in 2002 and perhaps made it sound unnecessarily complicated. The risk matrix hinges on two simple questions:
Do we know about the existence of the risk?
Do we know sufficiently about the risk profile to quantify, manage and cover the risk?
The risk matrix below summarises the risk spectrum and mitigation based on these two questions: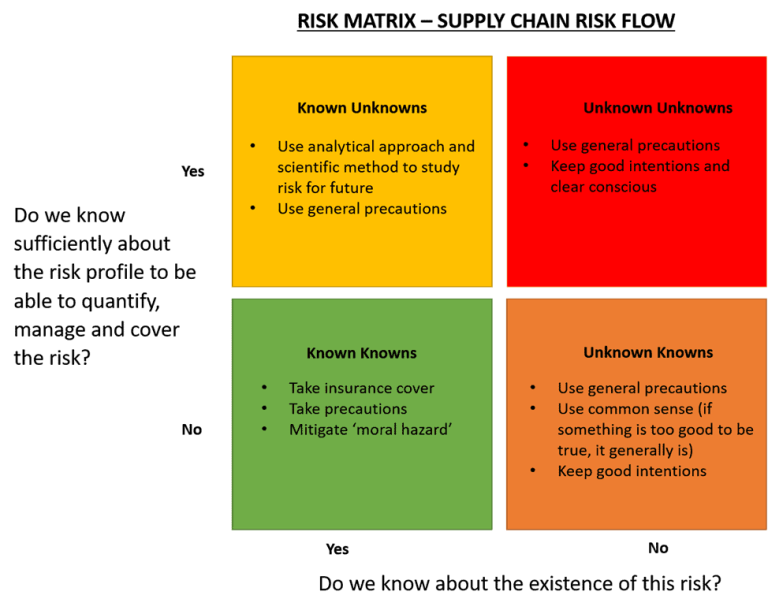 Can You Make It Real By Giving Examples Of Known Knowns?
Known known are the risk that are commonly discussed in risk management discussions. These are the risks that most insurance companies cover – to get an example all you have to do is pick an insurance contract and look at the laundry lists of risks that are covered by the policy. For instance, in marine cargo insurance (institute time clauses C) cover the following risks:
Fire or explosion
Vessel or craft being stranded, grounded, sunk or capsized
Overturning or derailment of land conveyance
Collision or contact of vessel, craft or conveyance, with any external object other than water
Discharge of cargo at a port of distress,
Loss of or damage to the subject-matter insured caused by
General average sacrifice
Jettison
And, institute time clauses B cover the following:
As per Institute Cargo Clauses C Plus:
Jettison or washing overboard.
Entry of sea, lake or river water into vessel, craft, hold, conveyance, container, liftvan or place of storage,
Total loss of any package lost overboard, or dropped whilst loading onto, or unloading from, vessel or craft.
General average and salvage charges, adjusted or determined according to the contract of affreightment and/or the governing law and practice, incurred to avoid or in connection with the avoidance of loss from any cause.
No matter what you insure – cargo, ship, truck, factory, warehouse – there will be a list of perils covered, and a list of exclusions. Both the lists are critical.
You may be able to get additional cover for the exclusions by paying an additional premium (payment). However, some exclusions may not be insurable because they fall under known-unkowns.
What Are Known-Unknowns? How Can They Be Handled?
Whenever you look at an exclusion in an insurance contract – try and guess the reason for the exclusion. Is it because the cost of cover is so high that an insurance company is only willing to cover it for an additional premium? Or, is it so because the excluded risk, while known, is unquantifiable by the actuaries.
For example, sound seamanship and marine practice must be used at sea in all circumstances irrespective of the risk's insurability. This practice will cover the known-knowns (because the insurance companies require such exercise of due diligence), and the known-unknowns.
 When sufficient data exist to quantify the known-unknown risk from the insurance company perspective, it can be priced and sold in the insurance and reinsurance market. That is when the risk becomes known-known.
What Is An Excellent Example Of Unknown Knowns? Why Do We Need To Treat Them Differently Than The Known Unknowns?
Whenever I am in a new city, I always lock my passport and wallet in the hotel safe, till I become well conversant with the various areas that I might go. I know that the consequences of risks of getting robbed are significant enough to lock up my things in the safe; I do not yet know whether it exists in this city, or not. After several days of interaction in the town, I become comfortable with how much risk I would like to take there.
 The task here is not to quantify and value the risk to make it a tradable commodity. That has already been done elsewhere. The mission here is to figure out whether the threat exists in this situation or not.
Will Unknown Unknowns Always Remain That Way?
Quite the contrary! Like COVID-19, they make their presence known with a great force whenever they manifest. 
What Is The Flow Of Risk? How Does It Flow In The Supply Chain?
This term is deployed primarily for the known-knowns as the risks transfer from one entity to another when the goods change hand in the supply chain. A typical risk flow matrix depends on the type of contract of sale of goods.
Can You Give An Example Of Risk Flow Being Different Than The Value Flow, Which Varies From The Finance Flow And Material Flow?
A global multinational may have its European headquarters in Switzerland, and all contracts between its national subsidiaries are routed via its HQ. A sale from France to Spain will not route the material through Switzerland – the material flow is more or less direct. Value flow is via the HQ. Finance flow may flow the value flow but with a timing difference depending on the accounting practices and protocols. Risk flow may be immaterial because in this case, the MNC was self-insured and did not go to the reinsurance market for mutualisation of the risk.
How Do You Map The Risk Flow?
To summarise Murphy's law – "anything that can go wrong will go wrong."
You cannot map the risk flow until you have mapped out the other four flows – materials, information, finance, value. Only once the other flows are crystal clear in your mind, can you start appreciating the risks of disruption along the path of each of those flows.
Some of these risks are known, and others are not even fully known or appreciated. It would help if you had experience and imagination. You also need a comprehensive information base to collect data on possible risks and their probability.
Then you construct a risk map noting down all the planned significant events in the supply chain and who carries each of the plausible risks as it transfers from one party to another. It will take several weeks to map out the risk flow in each case, but the results will be enlightening for the risk managers and supply chain managers and the executives and the boards of directors. 
How Can The Risk Flow Map Be Deployed For Making Supply Chains And Risk Management Better?
It is the job of the supply chain managers to show that they have done due diligence. Risk flow maps are useful not only for pinpointing who exactly holds a particular risk at various points of the supply chain but also for note all the risk mitigation steps taken by the relevant party for the purpose of insurance and their own management audits. Here are the significant benefits:
Better Risk recognition
Comprehensive Risk assessment
Customised insurance cover
Systematic Risk mitigation
Our Clients say it better than we ever could: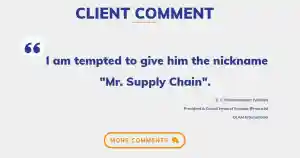 Our Clients come from a variety of industries – yet they have a common element. They rarely rest on their laurels, and are always looking to do better with less resources.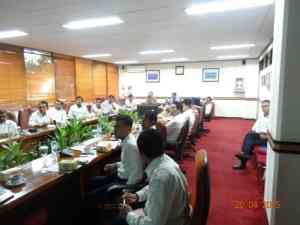 OUR PROJECTS - EFFECTIVE TRANSFORMATIONS
In the last 20 years we have completed more than 500 projects. Click below to see a sample of our projects.