BIG Breakthrough Supply Chain Results
Start of the year is always a memorable occasion – full of joy and hope. It is also the time for new intentions, new hopes, and new habits.
Like many families, we use the end of the year break to set the tone for the coming year – individually, and as a family.
That is the best way I know of sustaining momentum in Global Supply Chain Group for the last 20 years, as well as for physical, intellectual and skills development of three young boys growing up in a culture of entitlement.
One of my sons, who is studying a very tough engineering course at a highly competitive university made an extremely good point in a conversation with me.
We were discussing how we can both achieve a breakthrough far above what we achieved last year – he in his study results, and I in my golf results.
The reason it is worth repeating here is because we have both gone though a year of effort to achieve these respective breakthroughs, with not enough success.
We were reviewing our methods and efforts from last year when he commented that if do the same things, in the same way, all we can get is the same result.
My thoughts immediately turned a number of my clients, who always complain that they have tried everything to get a breakthrough in their supply chain and business, and gotten little results.
Exactly the same situation is applicable there. I summarise the situation in the following diagram:
Steps of Breakthrough Supply Chain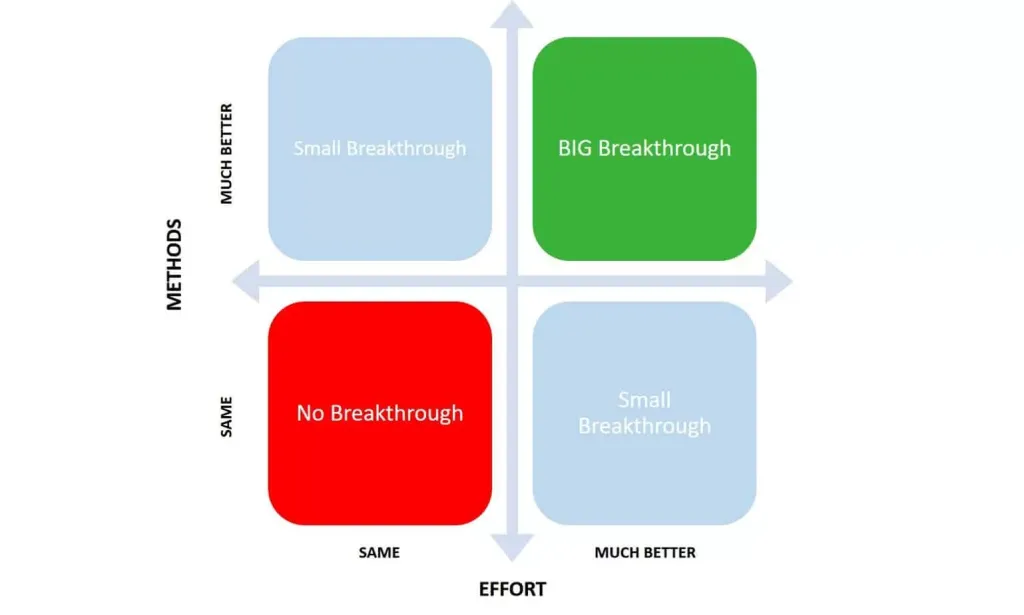 HOW TO ACHIEVE A BIG BREAKTHROUGH IN 2019
Now that he has made this observation, we are slightly further ahead on the curve in the last 4 days. We know that we need better methods, not just work harder.
But now comes the hard part – I am not a golf expert, and he is not an engineering expert. In fact, I touched my first golf club only after the age of 35 or so.
Know More Breakthrough Supply Chain
To find methods that will take my golf handicap from 13 to 4 is not easy.
It is not that there are not enough people each with their own methods. It is just that I don't know which one of them will work for me.
That applies to a regular golf-pro lesson too – I tried those one year.
I want to solicit the help of my well-wishers, so they can suggest some methods that might work. I have to find my own way through a maze of methods to choose the ones most likely to work for me.
Then I have to apply the chosen method – till it is clear that they are effective, or not. Then, I have to incorporate them in my routine, or discard them, accordingly.
My sons' challenges are even bigger. Luckily, I am not studying engineering in UNSW, or for HSC in a selective school. Yet, I am sure they will measure up to their own challenges. That is the nature of these things.