There Are Five Key Cornerstones Of Success In Building And Harnessing Effective Global Business Networks
The 5-STAR Business Network
So what are these 5 key cornerstones of the super networked businesses that lead to these networks being called the 5-STAR Business Networks? As an aid to memory, I have given them mnemonic names in order, shown below (see the complete structure in the book):
5 STAR Business Networks enable businesses to do these regular activities in a much better manner than would have been possible otherwise. As we will see with the help of several examples and cases studies, aided by technologies, an open collaborative mindset and a
focus on the bottom line, these businesses are achieving better results through superior methods. We will examine each of these five cornerstones of the 5 STAR Business Network in great detail in the five chapters in the book.
In this article, we will use an example of one company that is positioning itself as the super networked business of this century by using all five of these very astutely.
Amazon Is A Successful Example Of An Emerging Global Business Network
When Amazon was founded in 1994, it was but one of the hundreds or thousands of businesses aspiring to make it big on the Internet.
Just like all its peers, initially the markets and analysts were starry-eyed about Amazon's success, and later, when the dot-com bubble burst, and the trend reversed, few people gave it much chance of success.
Yet it defied the naysayers and continued to sell at PE ratios exceeding 100 on the stock markets.What is the secret of Amazon's success?
What allowed Jeff Bezos to build the largest online retailer in the world, where customers can acquire anything that they desire over the Internet?
Learn The Truth About The 5-STAR Business Network
Admittedly, the company started with a first-moved advantage in its segment: books. Amazon was one of the first major companies to sell books online. The business was founded in 1994 and by 1995 the website was launched. Initially, the company was exclusively an online bookstore. However, it transformed to sell millions of products to a large and valuable consumer base. Today, the company sells everything from electronics to clothing, furniture and even food.If you had to ask this simple question to 100 people – "Who on earth today is the world's most customer-centric corporation?"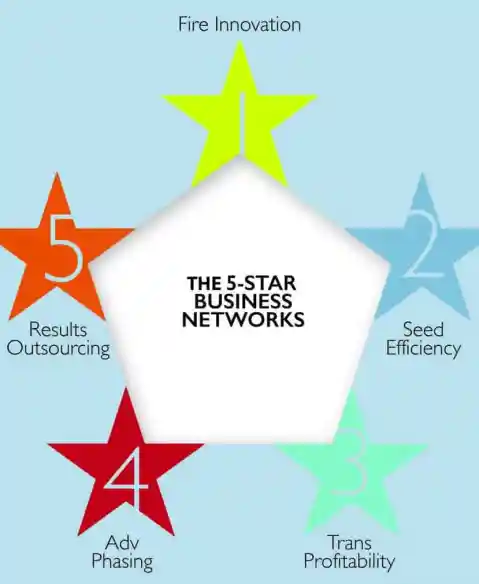 Amazon would figure very high on the list. Amazon has achieved low prices, a wide inventory selection, convenience, and truly gives customers what they want.
As a result, Amazon has evolved into a Fortune 500 business and continues to grow as a world-class electronic commerce platform.
The company grew its annual revenue from US $19 billion in 2008 to US $24.5 billion in 2009 to US $48 Billion in 2011, all the while continuing to invest in future businesses and maintaining a healthy cash flow. How does it do this?
In an article in Forbes (April 2012) Jeff Bezos offers some tantalizing clues. Bezo's main message is to base his strategy on tings that will not change.
For Amazon, their purpose is simple: offer wider selection, lower prices and quick, dependable delivery. Another significant lesson Bezos reveals is obsessing over customers.
Amazon starts with the customer and subsequently works its process backwards. The company even designates specific roles performed by trained employees known as customer experience bar raisers. This is one topic that Bezos takes exceedingly serious.
But, to some extent, every corner store does these things just as well. Why, then, is that would a corner store owner be lucky to grow his lowly sales by a couple of percentage points, while Amazon grew its sales to $48 billion from $24 billion in just 3 years.
Amazon Achieves High Marks On All Five Key Cornerstones Of Success Of Global Business Networks

Let us take a more in-depth look behind the curtains.
Jeff Bezos, on the record, said that you have to be willing to be misunderstood for long periods of time.
While several of Amazon's designs look like a bust at first, if the new idea makes strategic sense to him, Bezos goes for it knowing full well that people will initially misconstrue the design.
In general, this is what innovation is – people are going to misunderstand it because it is new.
Overall, the business philosophy is rather simple: make online shopping simple and suitable so that the customer does not think twice about buying instantly with one click (Anders, George. "Jeff Bezos's Top 10 Leadership Lessons." Forbes. 4 Apr. 2012).
The complexity lies in how this simple business philosophy is translated into consistent action, resulting in nearly a billion customer visits a year.
There is nothing simple in the complex execution of this simple business philosophy.
Therein lies the dilemma of the modern business world – the quest for simplicity at the highest level, underpinned by the highest level of sophistication reminiscent of Nano-technology under the hood.
Almost all successful businesses do this dance of 5-STAR business network well, but Amazon does it exceptionally well on almost all 5 fronts.
There are many other businesses – well-known ones – that could be a poster child for the emerging trend of global business networks we showcase in the book "The 5-Star Business Network".
However, no one is more successful, more visible, has higher potential and is more assured of its role in this revolution.
That is why Amazon is a prime example of the 5 STAR Business Networks, demonstrating FAR Innovation, $t$ Efficiency, TOP, APP, and lastly, ROM.