How Effective Supply Chain Leaders Can Ease Your Pain.
This blogpost is likely to be controversial because it will likely make almost every reader unhappy at some point.
Because I am setting out to answer a question I encounter many times in my work - what kind of background makes the best supply chain professionals in the corporate circles.
Let us first start with an assumption that almost everyone in supply chain management comes from somewhere else. There are only a few digital natives in the supply chain world for the simple reason that it is a relatively new field.
That is the reason this question comes up frequently when clients are hiring senior level supply chain professionals to run their supply chain operations.
For sake of convenience let us also divide the world of supply chain professionals into two neat divisions - Business-as-usual (BAU) supply chain professionals and the Business Transformations (BT) professionals.
Because the skill sets and remunerations for these two divisions are vastly different, we will focus on BAU supply chain professionals in the rest of this blog. Otherwise, we are likely to diffuse the focus and make this blog unnecessarily lengthy.
So, Where Do Supply Chain Professionals Come From, And Who Makes The Most Effective Supply Chain Professionals?
In the last 20 years of running this company I have done deep dives into over 5000 supply chains of our clients, and their supply chain partners - and have seen supply chain professionals coming from fields as diverse as Sales, HR, Legal, and even Marketing or Finance.
You can truly say that the supply chain professionals can come from almost any part of the organisation.
Yet, by far, the most common background of supply chain professionals, especially on the lower rungs, tends to one of the few given below:
5 Reliable Sources To Learn About Supply Chain Leaders.
2. Logistics Management - warehousing or transportation with the company
5. Procurement, Strategic Sourcing or Sourcing
Even at the senior levels, a significant proportion of supply chain professional emerge from these fields - which should not come at a surprise to anyone.
I would not write this blog if the question is not an important one. In fact many of my senior clients from the past 20 years still call me before confirming their hiring decisions when making important appointments within their respective companies.
A big part of hiring decision is based on the background of the candidates in front of them, and how they were perceived by the interviewers.
It would be obvious to everyone that any such discussion is not only confidential but also generalised and highly subjective. But, that is the nature of almost all the important decisions in the corporate world.
Well, that depends on who you are. If you are from HR or part of the senior management hiring committee, it might give you additional insights into the candidates that you will frequently encounter - and their respective strengths and weaknesses.
However, if you are from one of the groups mentioned in list above, it is food for self-reflection and positioning.
So let's revert back to the key question.
Where Do Most Effective Supply Chain Leaders Come From?
To answer this question let us look at each group in the list above in a bit more detail. But before starting on that journey let me list a few caveats:
1. Beware of generalisations. Many SCM professionals have transcended their origins. I myself started in the shipping industry as a cadet.
2. Every individual has his or her own personality - strengths and weaknesses.
3. Background information is just a starting point in your journey of knowing people.
Procurement Oriented Supply Chain Professionals Generally Bring Strong Negotiations Skills, But Can Easily Become Too Bureaucratic:
A structured buying process pushing all the right levers in the right places leads to highly favourable negotiation process that can generally work in your company's interest till the market is on your side. But, the same process can easily backfire if the professionals read the market wrong.
Among all the supply chain professionals, sourcing people are best at contracts scrutiny, with their attention to details, and legally sharp mind. Many other supply chain professionals treat the contracts as an after-thought and lose a lot of gains made early in the strategy at the point of signature.
Procurement people are also the most systematic and thorough in their market scan, analysis and understanding. It is almost a second nature to them. They understand the competitive tensions in the vendor markets and psychographic characteristics of each of the key vendors. They have an intuitive tendency to come up with just the right negotiation strategy for each situation.
On the flip side, there are many common relative weaknesses frequently demonstrated by the supply chain professionals coming from procurement. Their focus being primarily on the negotiations and contracts, they tend to make an assumption that once the contract is signed everything will fall in place as per the contract. In many commodities - such as freight and IT - a signed contract is just the start of a long, winding negotiations process. Same is true of many geographies such as the middle east, Greece and parts of Asia. Procurement oriented people also tend to be weak in production and logistics parts of the operations and in many cases treat supply chain planning and control aspects as 'black-boxes' - almost same as the sales and marketing oriented CEOs do. Disaster usually awaits a company where nobody in the C-suite has any background from production and logistics - so always hire for complementary skills. Finally, at its worst, procurement can easily devolve into a form filling exercise with three quotations and ticking boxes on long irrelevant questionnaires. When you extend that tendency to the rest of the supply chain planning and control, a big self-sustaining bureaucracy can evolve to soak up a lot of resources with no commensurate returns.
Production Planners Are Highly Competent Analysts, But Can Get Lost In Details
Now let us talk about supply chain professionals coming out of the ranks of production and planning. Some of the most competent engineers in production are tasked with production planning, and if they are good at this challenge they might get an opportunity to move up to a supply chain management role.
Intuitively, they are just as good at balancing demand with supply in real time as the procurement people are good at market scanning and negotiation. Generally, quantitative skills of highest order and supply chain knowledge is one of the best in the company.
Most importantly, from the very beginning production planners become adept at balancing multiple interests simultaneously. Sales, marketing, finance, inventory, procurement, logistics, operations - all have a stake in the outcomes of the production plan. They are all trying to influence and sway the production plan in their own ways to get their own outcomes for the week, month or quarter.
On the flip side, production planners work with too many KPIs and are always at a loss to prioritise the most important aspects of the supply chain strategy at any moment. They can also easily get suckered in the drive towards perfection and lost sight of the fact that 'perfection is the worst enemy of excellence.' Finally, production planning oriented supply chain professionals can easily get lost in too much detail and fail to come up for the strategic air to re-orient themselves periodically. This can happen quite easily if their subordinates are not as competent in production planning as they are.
Inventory Managers Have A Broad SCM Knowledge Base But Can Be 'Out Of Date'
Supply chain managers from inventory management field have exposure to rest of the SCM and a good understanding of the working of each part of the SCM. They have mostly good quantitative skills and are reasonably numerate in most cases.
Out of all supply chain professionals, they are perhaps the most adept at managing the cash-to-cash cycle, with deep understanding of the full insidious impact of inventory on the bottom-line, especially when the market cost of capital is high. They know each and every trick that will potentially decrease your inventory while keeping the customer service levels the same.
Unfortunately, with the cost of capital being so low for so long, good inventory managers are becoming rare. In the low interest rate environment, the focus of CFOs and rest of the management team has devolved away from keeping inventory levels low. With no pressures of this nature, even the best of inventory managers are likely to become lax in their jobs.
But, that is not the only problem. There are so many different inventory management heuristics and methodologies that some are clearly out of date and relevant to only a limited set of supply chain circumstances.
Many inventory managers can be seen deploying an out of date or default system heuristics because they know nothing better. Blind reliance on such systems can be fatal to inventory levels within a company.
Some inventory managers also lack strategic thinking capability and lose sight of the customer service objectives - especially is situations with segmented supply chains.
Logistics Oriented (Transportation, FF Or Warehousing) Oriented Supply Chain Professionals Can Move Boxes But Lack Core Optimisation And Integration Skills
If you have spent the best part of your early life storing or moving stuff, you become extremely good at moving and storing stuff. There is not a trick there that you would not know.
If you have spent the best part of your early life storing or moving stuff, you become extremely good at moving and storing stuff. There is not a trick there that you would not know.
You acquire a broad cross-organisational knowledge base making deliveries company to company. You develop a good communication style, and can easily convince the people that you know all there is need to know about.
It should come as no surprise this is the group which has been able to convince the broad business world that their core skill - moving and storing things - is what supply chain is all about.
Procurement professionals, inventory management and production planning professionals also try to do the same - but are mostly unsuccessful in doing so.
But, as is becoming widely accepted now, supply chain is not all about just moving and storing things, or buying things, or production planning or inventory management.
It is far more than any one of these skills. Our FAQs (Frequently Asked Questions) go a lot more into details on this topic.
This is also where most logistics oriented supply chain professionals frequently fail - they perpetuate the impression that logistics is same as supply chain because they frequently fail to upgrade their core supply chain planning and control skills.
A big part of supply chain planning is the drive to optimise the end to end supply chain in a holistic and systematic manner (search for my post on FAQ on supply chain optimisation for more details).
And, because they are so vocal and appear credible, they succeed in perpetuating this impression for a long time in many companies.
The core supply chain discipline of matching demand to supply and vice-versa gets neglected, inventories bloom and costs are always above par in such circumstances.
In Summary of Supply Chain Leader
Each participant in the supply chain game brings his or her own strengths and weaknesses. Some of these can be guessed easily when you pay attention to where that person is coming from.
Many supply chain professionals have transcended their origins by constantly upgrading their skills systematically. Others try to do so haphazardly by pumping the self-serving supply chain vendors for information that would broaden their knowledge base.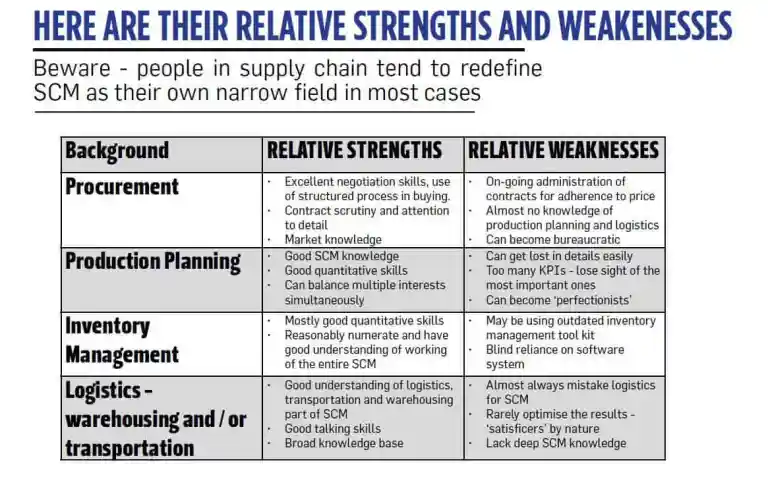 All the forgoing discussion leads us to the million dollar question at the start of this blogpost.
Where Do Most Effective Supply Chain Leaders Come From?
I must admit I have my own biases and opinions after mentoring and coaching hundreds of supply chain professionals from each of these fields over the last 25 years.
When we started GLOBAL SUPPLY CHAIN GROUP in January 2000, not many people knew what supply chain was all about. We frequently got asked silly questions such as what kind of chains do you supply?
Since then we have actively participated in and guided the evolution of SCM in the corporate world around the globe.
My personal bias always tends to towards the more competent group of people, particularly the quantitatively competent people from production planning and inventory management.
But, I have also found the soft skills most difficult to teach to them.
On the other hand I never found it necessary to make the logistics or procurement professionals competent in quantitative skills so long as they fully appreciate the intricacies involved and get the right support staff in those areas.
Unfortunately, I have also found that many of them overestimate their ability to do so.
But writing this blog post convinced me that the best supply chain leaders can really come from any of these fields and further afield. Even taking in consideration all the generalisation, circumstances will decide the best supply chain leader for the moment.
For example if the interest rates suddenly jump up from 0.5% to 25%, suddenly inventory management skills will become paramount.
Similarly, all the logistics industry disruptions post COVID-19 have made it critical to have highest level logistics skills at play in the SCM.
Before that the extreme price volatility in the commodities supply market had brought the procurement skills to the fore.
Today, you need someone who can bring and combine all of these in a systematic manner.