Why Trust In Supply Chain Is Important?
Recently, the value of trust in supply chain was brought home to me in a graphic manner.
An owner of a medium sized business (who was trying to be one of our well-wishers) showed me (and one of our new recruits in sales management department) the way they were using dummy websites to generate leads for their business.
He also mentioned that nowadays this is a very common practice to create dummy websites, even dummy companies and fake addresses for the sheer ease of doing so and anticipated potential benefits.
He wanted to encourage us to do the same thing. We listened to him politely, thanked him for his opinion, and refused to go down that path.
He was firmly in the camp of people believing that you have to fake it till you make it.
Obviously there is a huge contingent of people who follow this philosophy. To justify themselves they often quote Richard Branson saying this:
I don't know if this phrase was truly said by the man himself. However I would feel a little bit uneasy if pilots in their airlines adopted this mantra. It basically means that they accept the job as a pilot hoping to figure out how it works later, meanwhile they are going to fake it till they make it.
I know I have carried the example to an extreme, and pilots do need certification before anyone offers them a job as such.
However, I am also aware that there are more subtle considerations such as aircraft types, routes and even airport characteristics where most pilots will not accept command of an aircraft till they know for sure they can do the job.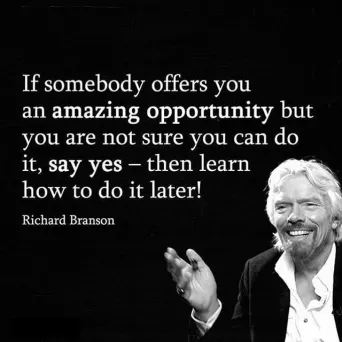 Like them, I am firmly in the camp which says 'make it real and keep it real.'
The risks are far too high; and the numerous opportunities to train and learn without exposing your passengers (or business network partners) to the unnecessary risks make it almost callous to do otherwise.
Yet, many people persist.
Deficit Of Trust In Supply Chain, And Its Side Effects
This belief – fake it, till you make it – is usually based on the assumption that nobody will offer you a job if you're perceived as not qualified for it.
On the contrary, you are the best person to judge whether you are truly competent enough to take on a job.
At the same time, with the job offers comes the responsibility of choosing, whether to accept it, or not; the responsibility of evaluating your own skills, experience and competence for this particular job.
Unfortunately, there are far too many people forsaking this responsibility that can only apply at a personal level.
That is also the reason why there is a lot of trust deficit in the business world.
If you are faking it, your reader, your audience, your client, your customer will most likely know that you're faking it. It is just a matter of time.
Whether you are a motor mechanic who's faking the knowledge of the type of motor that you're repairing or you're a heart surgeon or any job in between.
Faking it is definitely not going to make you happier or more successful for the simple reason that your customer will always be uneasy with you.
Furthermore, in your heart you will always know that you are faking it, which is not the best thing for your self-confidence and self-respect.
Supply chain management is not a unique field which requires a large amount of trust between people to collaborate. In fact, trust is a fundamental requirement for all collaboration, cooperation and joint activities between human beings.
It becomes even more significant in supply chain management where it is both individual trust and institutional trust.
Why is trust so important anyway?
There is an important reason why I mention it.
As supply chains become more and more sophisticated, as they become more entangled and evolve into business networks, the need for trust within the supply chains becomes more and more intense.
Let's take a specific example to make this generic statement more real.
Suppose you are a soft drink manufacturer, and the suppliers of empty cans has a captive plant right next to your bottling plant, you have a good chance of hearing about their business ups and downs and know well in time about events that might affect your supply.
Now just substitute this captive supplier of packaging by a bunch of suppliers half way around the earth who might have significant cost advantage (because of manufacturing cost, for instance), and see how important it will be for you to keep open clear lines of communication in order to run your business smoothly and efficiently.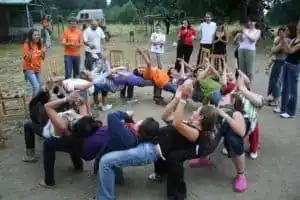 Companies typically want to engage with supply chain partners who will be able to deliver on what they promise, barring a totally unanticipated event. If your business network partners are not fakes themselves, most likely they will not engage with you further when they find out that you're faking it.
Although trust in supply chain management is a very popular topic, it is evident that establishing trust within the business network can be very challenging.
It takes time, patience and effort of each and every supply chain partner. It can be even more difficult to maintain trust over time. As the concept of trust is rather abstract, it is also hard to measure.
At the same time, despite all the difficulties and efforts you can be sure that developing trust with your suppliers and customers is worth the efforts.
So what is trust and what are the components of it?
How to make sure that there is enough trust between you and your supply chain partners?
Is it always worth the investment of your time and effort?
Is there such thing as too much trust within the business network?
First of all, trust in supply chain management, as in any other cooperation between people, includes numerous factors.
You should maintain good communication at all times between you and your partners. Communication also means honesty and openness. Fairness and loyalty can also be very helpful in establishing trust.
Another integral part is the competence and your openness about whether you are qualified for this particular job or not.
This kind of relationship requires goodwill and willingness not to exploit your partner's vulnerabilities. This is even more important because of the confidential information which is shared between supply chain partners and with management consultants.
My colleague, who was at the meeting mentioned at the start of this article, wondered aloud about the advisability of trying to create some websites to generate additional leads for our training business.
And my answer was an unequivocal "no".
The reason was very simple.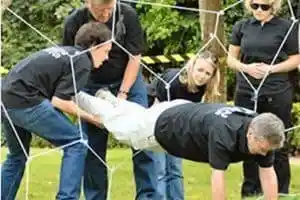 I like to make it real – and keep it real.exercise-in-ground I gave my colleague an example of the difference between level of trust required for a pharmacist, a general practitioner and an open-heart surgeon.
When you go and buy a medicine from a pharmacy, you do need a certain amount of trust. You need to be confident that the pharmacist will indeed give you the formulation that the doctor has prescribed. You need to be sure that it is pure, unadulterated and sold at the market price.
However the level of trust required from a general practitioner is much higher. Because you will have to literally remove your clothes in front of him.
In this case you need the confidence that your general practitioner is able to examine you, to find out what was wrong.
This trust requirement further multiplies when we are talking about a heart surgeon. You need to be completely sure of your heart surgeon as you need to entrust him your own body, because he will be actually cutting you open and looking literally at your heart.
Imagine a heart surgeon who lives with the philosophy mentioned earlier.
In the situation where people need to share confidential information, where the profitability of your business depends largely on the competence and honesty of someone else, it is critical to make efforts in order to develop trust.
A low level of trust in this case may give a bit more independence and space at first but later on it will definitely result in lower productivity and profitability in supply chain.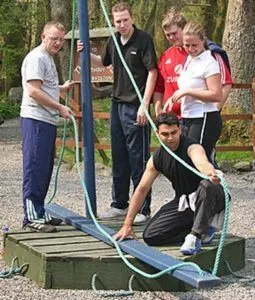 Trust In Management Consulting
Management consultants by their nature need to establish a very firm bond of trust with their customers. The clients need to be able to entrust them with a lot of confidential data and information as well as their innermost strategies so that management consultants could work successfully and effectively.
To be able to establish this kind of firm bond of trust you have to make sure that there is no possibility that your customer misunderstands any of your marketing messages. You should be unambiguous about your market position. It takes us to the next point.
It is always better to say clearly and honestly if the required skills or competences for a particular project are not within your company's skillsets.
Let me make it real with another example. Very often when we formulate segmented supply chain strategies for our clients' business, we need to understand the customer segmentation criteria.
As part of that activity we need market research data, which is obviously outside the competency set of our business. I am very clear with my clients when such situations arise.
I also say that I am in a position to recommend a few good market research firms, if necessary, but customers are welcome to choose any others that they want to use so long as the required segmentation data is available at the end of the exercise.
Sophisticated clients always appreciate a consulting company which is honest about where their competency starts and where it ends. On the other hand there are consulting firms who pretend that they are able to magically do everything.
In most cases they end up doing nothing well enough, and in the long term they usually lose not only the trust of their clients, but also their own self-respect.
Trust In The 5-STAR Business Network
Looking beyond management consulting, as mentioned before, trust is important for collaboration between supply chain partners.
When you are working with your supply chain partners – suppliers and customers – in innovation, in order to create new products faster, in enhancing the profitability and reducing the cash-to-cash cycle, you know that relying on fakes will only come back and bite you at the worst possible time.
Typically deep understanding of customer segments is required to be able to configure a segmented supply chain so that the end-to-end business strategy is in coherence.
This activity obviously requires an immense amount of trust running all the way through the entire business network.
However, similar to the example comparing a pharmacist, a general practitioner and a heart surgeon, the required trust will always depend on the situation and on the level of collaboration that we need from each participant within the 5-STAR Business Network.