Synergy value
The outsourcing process enlarges the network of the outsourcing company, which is a basis for value creation. In fact, when outsourcing, companies can have access to more resources and capabilities thank to this network.
All the business partners that constitute the network can gather and combine their resources and capabilities, which enable them to have much more opportunities and alternatives in their processes and businesses.
This huge network built through outsourcing makes possible combination of internal and external resources and capabilities, which enables synergies.
Synergy means that a system of several elements interact to produce a different or a greater effect than each element would do individually. In this case of corporate synergy, this is mostly about revenue effects.
In fact, when companies decide to outsource, the goal is to generate more revenue by using the network and the provider's resources and capabilities.
That is the reason why it is necessary to use the network properly in outsourcing processes. In fact, companies must pay attention to the suppliers they choose in order to create value because if they do not use the network correctly, negative synergies can also appear.
The combination of internal and external resources enables companies to use the complementary existing between the different business partners.
Indeed, they all have their different advantages and strengths, and they must use them in order to create the more value they can. This is how the network brings value when outsourcing.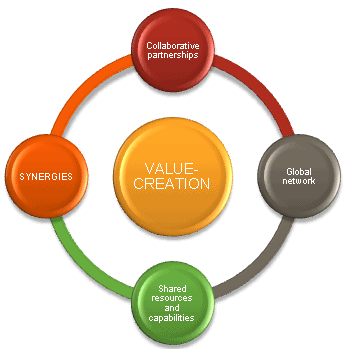 Collaborative partnerships can bring very important and profitable synergies, particularly when there is a strong relationship between two partners from two different areas.
Indeed, the partnership is based on the full complementary of the business partners, which brings significant synergies within the outsourcing network.
Synergies bring many advantages in outsourcing. Indeed, not only they enable saving costs, but they also are the basis for value creation.
Every partner has its domain of competencies with a certain expertise, and that is what brings synergies. Expertise is a key factor in outsourcing because it leads to value creation, through synergies.
All this is the very reason of the multiplication of strategic alliances over the last decade. Indeed, the number of strategic alliances has almost doubled in the past ten years, and this number is going to rocket even more in the future.
Indeed, many companies now understand the purpose of outsourcing. Moreover, they know that they have to outsourcing in order first to survive in the market and then in order to create more and more value thanks to synergies.
That is the reason why outsourcing has become very attractive for companies and the network is now something indispensable, which means that companies cannot keep working alone, or they will go bankrupt at some point.
However, it has to be based on a long-term agreement because synergies can only exist for long-term relationship. Indeed, it is not possible to benefit from the network resources and capabilities in a short-term agreement because a strong relation needs time and processes also need time to be properly implemented.
For this reason, it is necessary to prepare the process well in order to undertake it without any doubt of its success, or a very low probability of failure.
Value of Resources and Capabilities
What enable synergies and value creation are resources and capabilities. There are internal and external resources and capabilities that will help the company to benefit from outsourcing and relationships advantages.
First, there is value generated from resources and capabilities of external providers. This is about out-tasking, using external providers that will undertake tasks that are not in your core competencies.
This outsourcing process aims at using the provider's expertise and performance. Suppliers have specialized capabilities that will create value for the outsourcing company. Indeed, the company uses its capabilities to focus on core competencies and uses the external providers' capabilities for other tasks.
In this perspective of the value created by using resources and capabilities of an external provider, there are two different aspects that bring synergies within the outsourcing relationship: task specialization and knowledge diversity.
1. Task specialization
The specialization of the provider is the cornerstone of the attractiveness of outsourcing. Indeed, the provider is specialized in the task he is undertaking for the outsourcing companies.
The supplier executes the same task for all his customers, and that is the reason why suppliers are experts in their domain. Expertise is the key factor of the effectiveness of outsourcing processes.
By executing the same process for many customers, the providers can accumulate a lot of experience and knowledge about this very process and that is what enables them to become experts.
Task specialization is all about "learning by doing", which is a key factor for success in outsourcing. Indeed, standardization and specialization lead outsourcing processes to success.
Besides, it also enhances the innovation performance because suppliers have specialized capabilities and access to human and organizational resources, which enables them to know the process perfectly and be better at innovation.
They can achieve the efficient degree of knowledge and expertise that will permit innovation and improvements.
2.

Knowledge diversity
The providers have a broad knowledge about different industries because they produce for a different kind of customers, although they are still doing the same activity.
Thus, the supply network is a tremendous source of diverse knowledge about a different kind of industries and companies, which means different processes.
Thanks to this diversity of knowledge within the supply network, suppliers can easily manage to apply their methods in different conditions and circumstances. Diversity helps suppliers to be able to deal with any situation, which is a great advantage for them and their customers.
In fact if companies wanted to do every task on their own, they would have less satisfying results because of their lack of knowledge and a lack of visibility on their business. That is the reason why the supply network is a great strength for outsourcing companies, thanks to knowledge diversity and expertise.
Thus, the network generates value for outsourcing companies; it is an external value creation. Every supplier can innovate thanks to his own knowledge.
They all have their domain of expertise and can use all these knowledge in any case, for many different customers. Besides, it permits to be very fast for companies and thanks to their supply network; they can enter the market faster than companies that are not outsourcing.
Without suppliers, companies would not be performing as much as they can thanks to outsourcing processes. Thus, knowledge diversity creates value for outsourcing companies.
We have just seen the value generated from resources and capabilities of an external provider. Secondly, there is also value created from shared resources and capabilities of both the company and its suppliers.
Indeed, synergies can appear thanks to the relationship between a company and its suppliers. They are working together in order to improve the process, and their performance, and this is what creates value.
Thus, there is value creation due to the relationship with business partners, who are working together, in order to achieve the same goals. This is how results can be improved and how outsourcing processes create value.
3.

Inter-firm complementarity
In this perspective, we are talking about the co-created value. In fact, value is created from shared resources and capabilities of all the parties within the network.
When they are all working together within the network, it makes it easier to enter intermediate markets, and it is also faster to get the results expected thanks to greater opportunities.
In fact, companies are complementary, and this is what enables the network to have more opportunities. As companies' resources and capabilities are complementary, they can benefit from more opportunities according to other resources available within the network.
Thus, there are much more opportunities when companies work together in order to make better results through greater performance. Consequently, outsourcing processes enable to create value through shared competencies within a network. This value creation comes from synergies.
The best example of commentaries is Research and Development (R&D). Indeed, it exists Research Joint Ventures among companies that can even be competitors on the market.
Indeed, for departments like R&D, it is much more beneficial to make alliances between companies because it enables to have double resources, which means more results and faster.
That is why it can be beneficial to associate with another company on the same market, at least for sharing some resources that are useful for both.
It is quite a common thing to find research alliances, particularly in high-tech industries. Thus, we can say that the network is the most important thing in outsourcing because it is the cornerstone of value creation.
Indeed, without the network there is no synergy, no diversity and no complementary between companies, whereas those are key factors to the success of the process. That is the reason why companies should not neglect the importance of the network.
To summarise these two parts about synergies and resources & capabilities, one word can be sufficient: network. Indeed, network enables to create synergies thanks to the multiplication of resources and capabilities.
This is the basis of the value creation through outsourcing. Suppliers are experts, and this is what enhances performance and speediness thanks to specialization. Besides, there is a great complementarity among companies that belong to the network.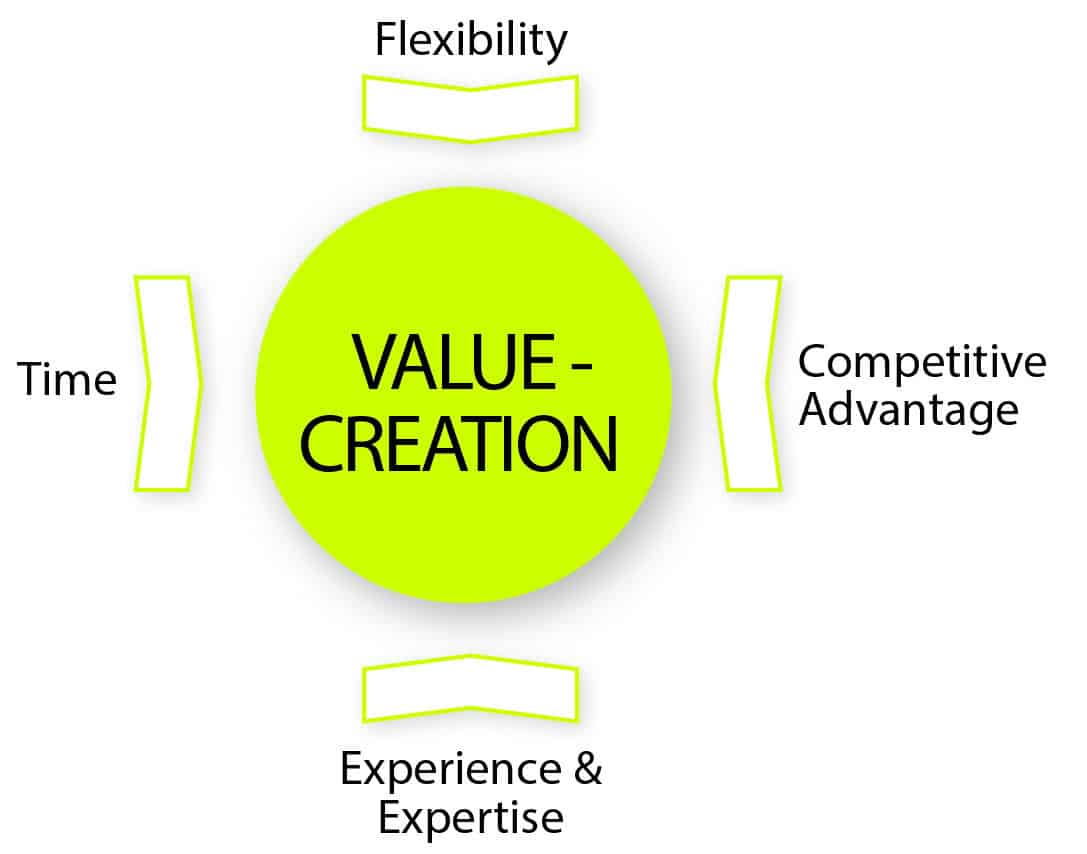 TEST YOUR RETENTION
On"REAL VALUE CREATION"
* This Quiz has 5 questions ( Estimated Time - 2 Minutes)