Ford to recall Escape SUVs due to fuel leaks.Car owners are generally not pleased on hearing about manufacturer recall of their vehicles, yet once again, those owning the 2013 Ford Escape SUVs will be affected. U.S. automobile giant Ford is to recall two more types of the popular model worldwide to fix oil and fuel leaks that may increase risks of engine fires, starting in January. Described by Ford as voluntary, these actions mark the seventh time the automaker has had to recall the hot-selling SUV since it was redesigned and went on sale in spring 2012.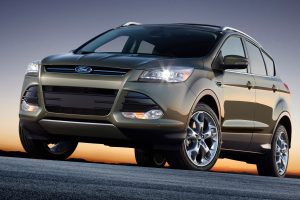 Ford To recall suv announcement
On Tuesday, Ford announced the recall of more than 161,000 Ford Escape SUVs with 1.6-litre EcoBoost 4-cylinder engine, 140,000 of which were in the United States. Responding to a safety concern, Ford To Recall told the National Highway Traffic Safety Administration that "localized overheating of the engine cylinder head" which could cause cracks and allow oil to leak.
Fires may be ignited if the leaked oil drips onto a hot surface. The car manufacturer, based in Detroit, Michigan, said that 12 fires had occurred in the United States and one in Canada, which were caused by the problem mentioned above, but no injuries have been reported. The vehicles in question are the 2013 model equipped with the 1.6 liter engine, manufactured between October 2011 and June 2013. "The EcoBoost is a family of turbocharged engines, which Ford has heavily promoted and plans to use in 90% of its vehicles.
impact on sales & supply chain of ford suv recall
However, looking at the incidents so far, Ford To Recall may have some mismatch between its product maturity, in this case the engine, and its supply chain maturity" – said Vivek Sood, CEO of Global Supply Chain Group. Meanwhile, in a second action, Ford is also recalling another 11,821 of the 2013 Escapes worldwide, including 9,469 in the United States. This is to do with the engine compartment fuel line, which may have been installed wrong and could lead to a leak. No fires have been reported. Notably, some of these vehicles are among those recalled last year for the same problem.
The automaker said some mechanics did not install the new lines accurately and they may chafe against an engine part, causing a leak. Ford dealers would fix the problem by making "enhancements to the engine shielding, cooling and control systems." "This reputation-tarnishing series of events points to a crack in Ford's supply chain management.
potential reasons for downgraded performance and suv recall
It could be a gap between the strategic and executional level, where the monitoring and control process is not as rigorous as it should be" – said Sood, author of the Move Beyond the Traditional Supply Chains: The 5-STAR Business Network". In 2012, around 85,000 Escapes were recalled in two phases between July and November. The company also paid a $US17.4 million fine for not informing Escape owners soon enough about a flaw in 423,000 vehicles built between 2001 and 2008 that could cause autonomous acceleration from a sticky gas pedal. Ford denied any wrongdoing. You can download the book Move Beyond the Traditional Supply Chains: The 5-STAR Business Network here (first three chapters).
https://5starbusinessnetwork.com/
For more information check out our website https://globalscgroup.com/