Want To Enjoy The FULL Benefits Of A TRULY Effective Supply Chain?
We are arguably one of world's first top tier strategy houses focused entirely on the art of supply chain management.
In Addition To 'Co-Inventing' Supply Chain Management, The Principals Of Global Supply Chain Group Have Continued To Create, Harness And Propogate A Significant Amount Of Practical Intellectual Capital On Supply Chain Management That Forms The Foundatation Of Every Supply Chain In The World Today. -More
Get In Touch With Us When It Is Time To REALLY Transform Your Supply Chain.
UPGRADE YOUR SUPPLY CHAIN USING OUR RESULTS FOCUSED APPROACH
SYSTEMATIC

, RAPID, 

AND SECURE METHODOLOGY

PRACTICAL INTELLECTUAL PROPERTY – REPORTS AND BOOKS 
FLEXIBLE, MASTERFUL TEAMS
COULD YOUR SUPPLY CHAIN BE CRAKING? FIVE TELL-TALE SIGNS
Most CEOs are surprise to discover that what they thought was a well-functioning Supply Chain turned out to hide such a tremendous amount of problems.5 signs how to recognize a broken Supply Chain.
Supply Chain is the backbone of the company. It involves the major departments. Supply Chain transformation is only possible with better cooperation of the departments. It needs an effective leadership of the CEO which eliminates the lag in the decision making.
Supply chain transformation is a process taking place in the middle term but the competitive advantages can last for more than 20 years. Supply chain is the backbone of your company. To succeed in this major shift you will need:
Our methodology is totally customized to your needs. Global Supply Chain Group will provide you a personalized support from the analysis to the implementation of the Supply Chain transformation.First Step we collect your data about your Supply Chain. We help you improve the accuracy and reliability of the data gathering so that you can have a clear picture of your Supply Chain.
ABOUT THE PRINCIPAL AUTHOR
Today, Vivek and his partners are among 20-30 people on the planet earth who have this deep understanding of supply chain systems, practices and tools. CEOs, COOs, executives and Boards call them in most challenging situations once they know the full potential of supply chain based transformations. Following are key milestones in Vivek's journey:
Started in 1983 as a merchant navy cadet at 18 years age, worked his way to qualify as a Captain – qualified to take command of any merchant ship, worldwide.
Earned a top tier MBA from UNSW at the top of his class.
Joined highly regarded strategy consulting firm Booz Allen & Hamilton, consulting to the CEOs, Boards and senior management of global corporations within Australia.
To learn and specialise in supply chain – against all odds, sought out the co-inventor of supply chain in Germany and convinced him to be a partner in his firm, GLOBAL SUPPLY CHAIN GROUP, launched in January 2000.
More than 500 successful blue chip projects with high impact business transformations in large corporations using the full power of SUPPLY CHAIN MANAGEMENT.
4 Seminal and path breaking business books IN SUPPLY CHAIN MANAGEMENT – these are available in bookstores and universities and libraries worldwide.
Our Clients say it better than we ever could: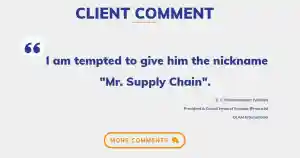 Our Clients come from a variety of industries – yet they have a common element. They rarely rest on their laurels, and are always looking to do better with less resources.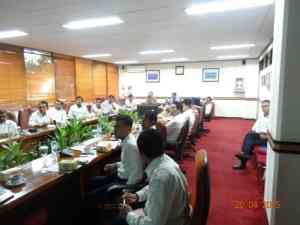 OUR PROJECTS - EFFECTIVE TRANSFORMATIONS
In the last 20 years we have completed more than 500 projects. Click below to see a sample of our projects.