Supply chain managers' salary is the subject of intense speculation for the last decade or so. Human Resources (HR) Managers have often asked us about what would be an appropriate supply chain manager salary range, when they are called upon to retrain or recruit staff during our supply chain restructuring projects.
Part of the reason is that supply chain is a relatively new discipline, and does not fall under any of the regular functional focus areas such as marketing, sales, finance, HR, etc. The set precedents are not useful for benchmarking salaries in many cases.
How Supply cHAIN mANAGER sALARY iS dETERMINED
Why We Are Qualified To Write This Article?
Over the last three decades we have led and worked on more than 500 projects in supply chain restructuring in dozens of industries and countries. A large number of projects involve recruiting new supply chain staff at higher salaries to upgrade the skill levels in the companies we serve.
We are frequently called upon to provide significant insights into the anticipated salary ranges for these positions - ranging from estimates for supply chain analyst salary to supply chain director salary, to supply chain VP salary.
In case you are curious why we are often asked to play this very important role, take a took at our supply chain credentials below.
A bigger problem is that good supply chain managers are in short supply. It is also very easy for any logistics, warehousing, or procurement person to 'sell' themselves as a supply chain person without really upgrading their skill sets.
That is one of the reasons why many companies get away by paying supply chain managers paltry amounts compared to what proper supply chain managers are paid by other companies.
What these companies forget is that in the end you get what you pay for. Just because someone might have a job title that included the words supply chain in the past does not mean that they have the skills of a supply chain professional.
Factors Influencing The Supply Chain Manager Salary In Your Company:
1. Market forces - supply and demand for 'REAL' supply chain managers in the area under consideration
2. Skill level and experience - duration and nature of experience required for the job
3. Industry factors - supply chain risks, travel, complexity, ambiguity, industry salary benchmarks
4. Company factors - internal salary benchmarks with functional areas as well as other cross functional roles, company profitability, size, dynamism, supply chain sophistication, working conditions, location of the job
5. Supply chain transformation jobs vs supply chain business-as-usual jobs
6. Start-up supply chain vs mature supply chain jobs
7. Bottom line impact of the role
If you are a HR Manager, this is what you came here for. Some of the factors above are self explanatory while many of the latter ones need a lot of explanation. We have written several other articles on these topics and they are worth exploring as well.
Invariably, we find that companies are proposing to pay their supply chain managers far too less, and end up attracting the wrong candidates. On the other hand many supply chain professionals wonder what they are doing wrong to never get the kind of offers many of their peers attract.
Depending on where you come from, and what is your interest in supply chain manager salary - read one or more of the following articles.
Let's get to each of the individual factors influencing the supply chain manager salary.
Market Forces - Supply And Demand For 'REAL' Supply Chain Managers In The Area Under Consideration
Most of the people reading this article need no explanation on this one. Whether you are an HR Manager, or a supply chain manager, or an executive, you know how market forces work in practice.
The only useful point I can make is that be careful how you define the "area under consideration." We found that even within USA, for example, the markets on the east coast and west coast were very different than some of the fly-over states.
Same point applies to the differences across the countries too. Also be careful that you are comparing the same skill sets, and similar profiles across all the other factors.
When we prepared the following figure for a discussion and used it in a presentation to supply chain heads from nearly 24 countries (in a single country), the reactions were amusing.
Even though we used fairly broad ranges in the figure above, many countries still fell outside the ranges - depending on the cost of living, and supply and demand situations prevailing locally.
Our Supply Chain Credentials
VERY FEW PEOPLE KNOW SUPPLY CHAINS LIKE WE DO - Retail, beverages, food, milk, dairy, meat, livestock, explosives, chemicals, cotton, rice, graphite, solar power, natural gas, crude oil, fertilizers, electronics, packaging, glass manufacturing, machine parts, automobiles, industrial goods, mining, etc are just some of the industries where boards and executives have benefited from our proprietary knowledge.
Since when no one had heard of supply chain, our co-founder Vivek Sood has been considered one of the most authoritative professionals in the field when it comes to the subject of supply chains restructuring in his clients' corporations in Australia, Asia, North America, South America and Europe.
He has written four seminal books about restructuring supply chains to gain massive advantage in business. He also regularly delivers keynote speeches at business schools and conferences such as University of Technology Sydney, Supply Chain Asia, Asian Bankers Forum, APEC Business Advisory Council.
He has been quoted in the authoritative business press and over 100 academic papers written by supply chain researchers around the world. Vivek and his team have examined thousands of supply chains during their projects over the last three decades and helped hundreds of executives build safe, cost effective and sustainable supply chains and careers.
A client, the President of a multi-billion dollar global trans-national corporation, called our founder "Mr Supply Chain" when he saw the impact of our ideas on global commerce.
Skill Level And Experience - Duration And Nature Of Experience Required For The Job
This is the second most obvious factor that determine the take home pay of the supply chain professionals. Clearly higher skills and more experience will need to be paid higher salaries.
Two less obvious points about skills and experience are important:
1. Skills in supply chain are rarely acquired solely in a class-room setting, even if the trainer is an extremely proficient supply chain practitioner. Supply chain is a practical discipline - just like riding a bike, or taking a golf swing. You can discuss all the theory you want (and theory is definitely useful for the practitioners), but unless you have worked in supply chain field, you really have no skills except for those from allied fields (such as procurement, logistics, or production planning) that are transferable to supply chain management.
2. Working under the guidance of a skilled master in the field is mandatory to acquire the skills. Experience in any other setting is only part useful. Think about a skilled pilot who has been himself trained only by a light aircraft pilot on a light aircraft. You are not likely to hand over the command of a super-jumbo passenger craft to such a pilot. The problem you will face is that while the visual gap between a light aircraft and a super jumbo is crystal clear to everybody, the gap between a great supply chain and a bad one, or even a good one is not so clear.
We have written a number of blogs, articles and even reports that cover these points in a great deal of detail. You can search for these with a suitable query in the search bar on top of this page. For example, this report outlines almost Everything You Want to Know About a Career in Supply Chain Management.
The following graphic about supply chain managers skills and experience comes from the report and explains these factors better:
Supply Chain Manager Leadership
Industry Factors - Supply Chain Risks, Travel, Complexity, Ambiguity, Industry Salary Benchmarks
Some people recognise the industry factor at the very start of the discussion, while others are surprisingly immune to them.
If your industry is extra-risky, supply chain management is going to be a lot tougher than in an industry devoid of such risks. For example, one of our long term clients, the planet's largest industrial explosives company, has to compensate its supply chain managers for 24/7 risks of managing such a volatile material through a global network of highly complex supply chain.
Similarly, oil and gas industry is highly volatile, complex and ambiguous. But that is not the only industry which has a relatively high compensation of supply chain managers as a result.
On the flip side, many industries are relatively a tame affair when it comes to supply chain management, and do not have to pay relatively high salaries to their supply chain managers.
Supply Chain Manager Company Factors
1. Internal Salary Benchmarks With Functional Areas - Sales, Marketing, Finance, HR, Legal, Manufacturing, Operations, Purchasing, Logistics
2. Internal Benchmarks With Other Cross Functional Roles - Strategy, Special Projects, Business Transformation, Mergers And Acquisitions And Other Such Teams
3. Company Profitability,
6. Company Supply Chain Sophistication,
Each of the above eight factors is important and a lot can be written about each of them. I will write only about the first two because that is where most dilemmas lie. Rest of the factors are fairly self-explanatory.
Many companies have problems fitting in supply chain personnel in the pigeon holes they have already built into their structures. To compound the problems, many of them still confuse supply chain (which is a cross-functional role) with logistics (which is a functional role). When they offer salaries more suitable for logistics professionals, they cannot complain that they fail to attract supply chain professionals.
Supply Chain Transformation Job Vs Business As Usual Job
This distinction may not be clear, even to many sophisticated HR or functional leaders. Generally, for the same level, a business transformation job needs a higher level of skill set and a wider experience. For this reason these jobs need to pay more than BaU jobs in supply chain management.
The following graphic derived from our report titled Powerful Supply Chains, Powerful Careers, Powerful Corporations is reasonably self-explanatory.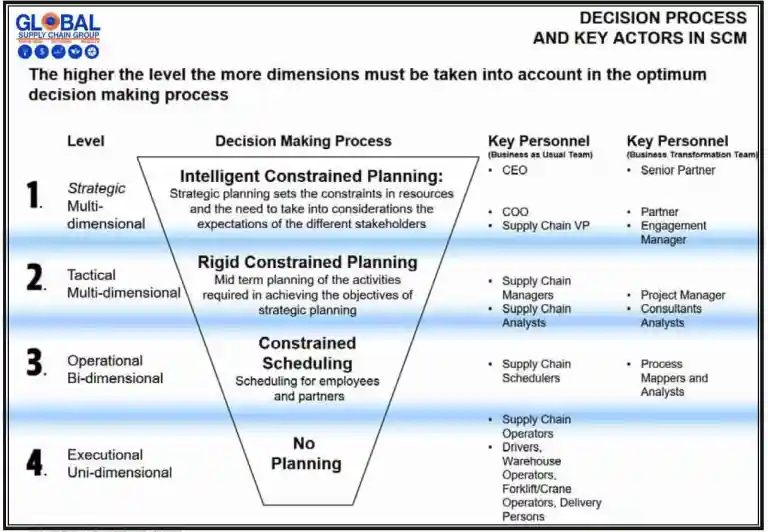 Start-Up Supply Chain Manager Vs Mature Supply Chain Job
This distinction is almost never made by start-ups until it is too late.
They hire a person with vast experience in mature supply chains and expect them to create structure, systems, skill sets, SOPs and other common features of mature supply chains.
Bigger a supply chain is, more time it has had to mature.
It takes a very special kind of person to take a start-up with a rudimentary supply chain and take it to its next level, as the company matures through its lifecycle.
The following graphic, derived from this report will give you a headstart.
It is a fairly involved muti-dimensional discussion but the following table from the same report may give you a good idea of why start-up supply chains are far more complex and difficult.
We have faced this journey alongside several well-funded startup boards and teams and we talk from intense experiences of these highly capable professionals.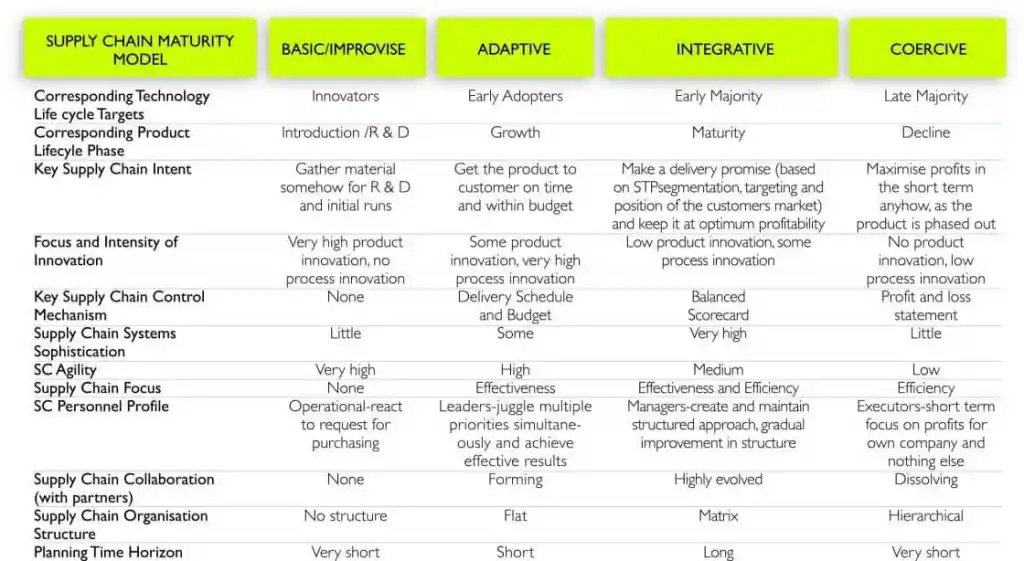 Bottom Line Impact Of The Role
This may appear like the least important factor influencing supply chain managers' salary, but in fact quite the contrary - it is the most important factor. We saved the best for the last for a reason.
We want you to take a moment and go back to the world without supply chain management.
Almost every company at that time (say in 1975) still had marketing, sales, operations, logistics, purchasing, and such functions. Every company functioned well enough without a supply chain.
So, why was supply chain invented in 1978 (by our senior partner Dr Wolfgang Partsch, and his team)? What was the reason for creating this new fangled thing?
For one purpose only - the bottomline impact of linking all the functions together - to integrate them and then optimise their activities in an integrated manner.
Anticipated bottomline impact of the role has a huge impact on the salary and the kind of person you will attract. If you pay peanuts - all you will get are monkeys.
Sure, you can pay a lot of money for smooth talking charlatans, but the opposite will rarely be true - do not expect to get people who can have top notch bottom line impact without paying them for their skills. This is a discussion we have will many companies too.
Now it is your turn to have your say. If you have read this far, you are, no doubt, a person with deep interest, and perhaps equal amount of knowledge and opinion on the topic. Let us know your opinions, just as we let you know ours.