This blog post is relatively small and simple. Yet, as you will see, it is of immense use to anyone in today's world. I do not want to make it any more complicated than necessary.
My friend Tony has a recession proof career. No matter what happens to the economy, or to his company, he seems to be always in demand.
His last company went through a wave of retrenchments, and he happily accepted a payout. He was quite certain, something will show up when he wanted to rejoin the workforce after a short break – and sure enough, it did.
This got me thinking, and finally I also spoke to him to find out his secret.
Here are the two keys to a recession proof career: As he says, this is easier said than done.
It takes years to earn the trust, and days to lose it. Millions of small things done well on a consistent basis day-after-day results in the type of reputation that he has developed.
Yet, the primary quality has been to represent things in a very realistic light, and never fake them.
1. Earn The TRUST For CARING: Supply Chain Job
Tony is known among his peers as a person of integrity who truly cares about his peers. He works hard to earn and keep their trust. He is well spoken, and only promises what can be delivered.
While he does not take himself too seriously, people do take his word seriously. The net impact of all this is that people want him on their team because they know that he will contribute to his full capability.
Over the past 14 years I have seen him accept bigger and bigger challenges on a consistent basis, and met these successfully. Yet, he has always been truthful about where he will need help in each case.
This has allowed him to grow personally and professionally into the kind of person who is always in demand.
2. Become Known For Being Better Than Anyone Else In Your Field: Supply Chain job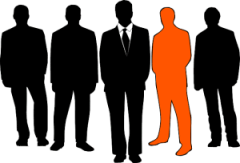 Combined with the point 1 above is his sense of direction. He has become a go to person for his area of expertise. Over years I have watched him seeks assignments, postings, and projects that will develop his expertise and sharpen his practical knowledge.
Rarely has he ever spoken about the pay-offs and bonuses from his postings and assignments. Almost in every case, his focus has been on how it will sharpen his edge and broaden his horizons.
That slightest edge he has over others in his area of expertise is enough to tip the scale in most cases. And, that is why he never appears to anxious about his career prospects.
I will end this blog post here – because i have given the central message of this post. Only question outstanding is – how to do each one of these two things? I have written numerous posts that answer this question.