No doubt, in the long run, you get paid for your results.
If you have the relevant skills, and you apply them with dedication, you are in a position to ask for, and get paid, more.
To determine whether you are getting paid less, more, or right amount, and to chalk out a future earning path use the following rough picture showing 9 levels and commensurate daily remuneration.
Whether you are in the corporate hierarchy, or in corresponding consulting hierarchy, everyone has to find their own level on a totem pole, and this may serve as a rough guideline.
Let me take some time to explain the diagram above, even though most of it is self explanatory:
Let's start with the two extremes first.
Clearly if you are low on both – the skills, as well as dedication, you do not have much chance to figure anywhere on the totem pole. That is why you see a lot of blank space in the left bottom quadrant of this diagram.
On the other hand, if you are very high on both the scales – the skills and well as the dedication – you will among the top income earners, as shown by the orange tip of the pyramid.
Now, to even get on the totem pole you reed either above average skills, or above average dedication, or a reason combination of these two attributes. Those would just get you a foot in the door, as a Business Analyst – at the bottom of the pyramid.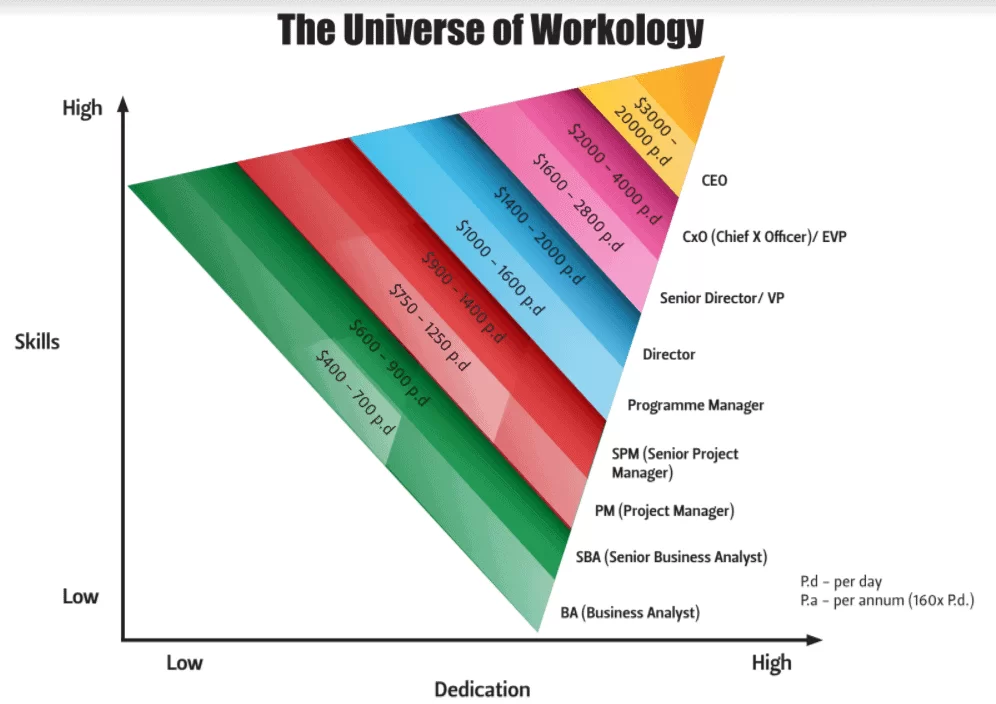 As you climb higher on the corporate totem pole – you will need to increase the combination of your skills and dedication in some measure of combination.
Next time one of your employees comes to you for a raise – you can whip out this blog post and show them the way to earn more.