A COMPANY IS KNOWN BY THE COMPANY IT KEEPS
Why Does Supply Chain Management Matter To The CEO And The Board?
Today, more than ever before, expectations from the top job is extremely high.
There are far more stakeholders than ever before – shareholders, board of directors, bankers, regulatory authorities, market analysts, NGOs, think tanks, lobbyists, media, social media, blog curators, EPA, SEC, and countless other such entities – each demands more than their fair share of attention.
CEOs and boards carry an extra-ordinary amount of weight in today's society. They are the primary producers of wealth, via the companies they lead and products those companies create. Yet, the CEOs carry a huge burden.
First, there is pressure to do more with less. The constant market clamor for enhanced profitability, for increased revenue and for lower costs can get overwhelming in today's economic climate. Not just boards, but also the key shareholders and pressure groups can all create an environment where CEOs and other key executives simply must produce more results with less and less resources.
Second, as the traditional command and control organizations of the past have broken down, leadership of generation "Why" has become a tough call. With eroding organizational loyalty, a culture of job-hopping and attitude of cynicism, leadership challenges facing today's CEOs are far more intense than faced by any generation in the past.
Finally, the CEOs face a unique situation where the buck stops with them, but they rarely get told the pure, unadulterated truth. While it will be an exaggeration to say that everyone lies to their boss, the reality is that in most instances, almost all the internal and external messengers know that their own career progression and economic well-being is attached to the message they bring to the person at the helm.
Under such circumstances, it is quite easy to temper the message and carry only the good news, lest the message harms the messenger. Most companies survive a long time while operating in this mode. However, if a company fails to face unpleasant reality in good times, it is quite easy to fall behind in the marketplace and gradually lose privileged market positions.
New technologies and techniques, new way of doing things, and new business models are the only savior in this environment – which most executives adopt with proper diligence. Yet, rarely do these new business models and techniques emerge from ivy league, or other traditional sources of knowledge. Most CEOs have to search around and find their own sources for these new business models and techniques.
There is no silver bullet which will solve all these problems. Yet the Business-to-Business Network crafted out of a well designed supply chain can provide at least five key strategic levers to solve these problems. We designate this Business-to-Business Network as Supply Chain 3.0. Some of the key questions about it are:
What are the five key strategic levers embedded in Supply Chain 3.0?

 How can they solve some of the problems above?

 Why is it called Supply Chain 3.0 and why is it better than the versions 2.0 and 1.0?

 How does one know what kind of Supply Chain they have – 3.0, 2.0 or 1.0? Why is it necessary to know this?

 What is the proof that this works?

 Who else is doing this thing?

 How can I be sure that it will work for my company?
We have written several white papers to answer some of these questions. As a start, these white papers can be accessed by contacting us.
Our Clients say it better than we ever could: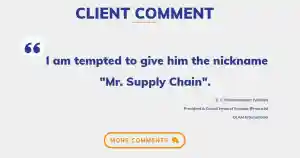 Our Clients come from a variety of industries – yet they have a common element. They rarely rest on their laurels, and are always looking to do better with less resources.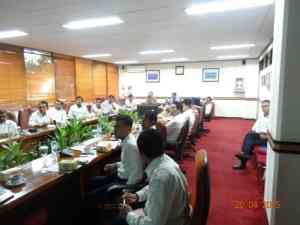 OUR PROJECTS - EFFECTIVE TRANSFORMATIONS
In the last 20 years we have completed more than 500 projects. Click below to see a sample of our projects.